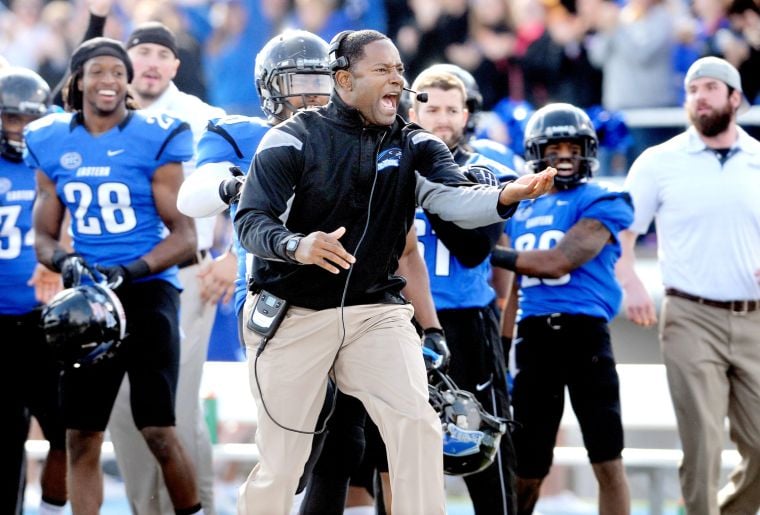 And so the search is over. Dino Babers of Eastern Illinois will be BG's next football coach.
I like the hire for a lot of reasons.
He is a proven head coach. If you go for the big-time coordinator, you don't know if they are prepared to be a head coach. Yes, I know, Urban Meyer, but the program was certainly in a different place when that hire was made. We're poised for a run and I like that we aren't providing on the job training.
He is a winner. EIU was a last place team when he got there, and he won the OVC title the next season and the season after that, his only two years there. They outscored their opponents 675-319. No, really. They were ranked #2 in FCS this year, beat San Diego State 40-19 (Aztecs made a bowl game) and came with 4 of beating NIU.
He has high pedigree experience as an assistant. Baylor, UCLA, Pitt, Arizona, SD State, Purdue. He was OC at A&M and Arizona. He was assistant head coach at UCLA.
He has a high-powered offense modeled on Art Briles. At EIU, he featured the best offense in FCS. Also, they used a mixed pass and run attack, which is perfect for the skilled players he is inheriting at BGSU.
EIU was also top 30 in scoring defense, along with other categories.
He is our first African-American Head Coach for football...though I think it is a credit to the society that this hardly seems to be a big deal.
So, what is not to like?
I can hear the more crochety members of the nation saying one thing in particular...these are people who want to make a "statement" hire, most notably with DJ Durkin or some OSU dude (didn't seem to matter which one)...what I can hear them saying is that he was considered at EMU and they picked another guy. Why do we want EMU's leftovers?
All I can say to that is EMU had its own situation. After what they went through, they felt they needed a guy who doesn't swear and doesn't let the players swear. It is a different situation. Just judge our guy on his own merits and ultimately on his results.
He has only been a head coach for two years. Obviously, no coach has everything. It would be nice to see him have a couple more recruiting classes under his belt, no doubt. I assume we were able to check in how he did recruiting as an assistant at all those schools. The proof will be in the pudding.
I think this is the right hire for us. I like the FCS route. We get good football coaches we can afford, and coaches who are used to making do with less. Obviously, no one knows the future. He might succeed, he might not. Based on what we have seen, it is hard to believe he will fail, but the thing is not done until it is done.
Welcome to the Falcon Family, Dino. Presser tomorrow at 10.