The beat goes on....BG dropped its 6th straight and 8th in last 9 last night in Dekalb. BG is just in a rut...this is the team we feared we have might have. As always, you might be able to cheat your way through the non-conference season, but there are no secrets in the conference.

I was trying to remember what year this felt familiar to. BG closed out the 05-06 season with 8 straight losses and 11 out of the last 12. It just seemed like we ran out of gas and that's what I fear with this year's team.

There are no obvious wins yet. The only home games are OU and Buffalo...and those are teams playing well and we have played poorly at home. The away games are Buffalo, Akron and Kent, all pretty tough assignments. The only game kenpom gives us a 50%+ chance of winning is the Buffalo game, and that's 51%.

Honestly, I don't think we'll lose out, but I can't see more than one win.

More when the dust settles, but I'm not discouraged about the state of the program. Huger is paying the price for some stuff that happened two coaches ago.

Anyway, BG is now 3 games out of a home berth with 5 to play. They are only one game out of last place, in fact, but Miami plays a similar schedule to BG coming home.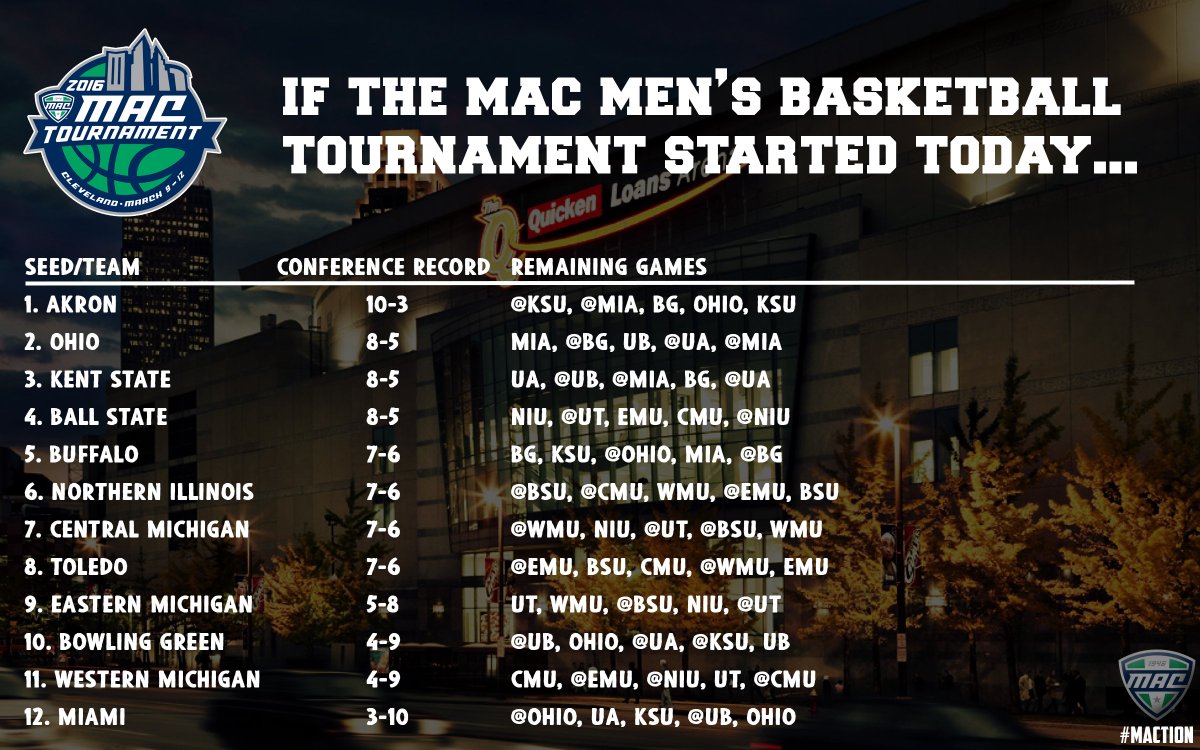 BG never led in the game and NIU led for more than 37 minutes of the game. They led by as much as 11 in the first half before BG closed the lead to 6 at the half. The Falcons then came out of the locker room and went 8:11 without a FG. By that time NIU had a 17 point lead and it never got in single digits again. Post-game, Coach Huger said the Falcons just have to play better in the second half, saying the Falcons missed open shots and layups on their way to shooting 28% for the half.
BG lost despite having only 14 fouls to NIU's 22. BG was strong at the line for once, making 16 of 22 while NIU made only 8 of 10. However, NIU's shooting--while nothing special--was better than BG's, which was terrible. The Falcons shot 32% overall and 36% from 3FG, meaning they were 10 of 33 on 2FGs. BG also made 4 more turnovers in the game.
I don't call our players out, but you can look at the stats...BG has two starters who are really struggling and can't get out of their own way. Spencer Parker, who isn't one of them, had 14 points while shooting 2 of 10. He points came on 9 of 10 FTs. He did have 6 rebounds, 4 assists and no turnovers.
Wes Alcegaire also provided some badly needed outside shooting, going 5 of 11 and 3 of 7 on his way to 14 points. Antwon Lillard probably had the most productive night for BG with 13 points on 4 of 6 shooting and 7 rebounds. Ish Ali had 6 assists.
On to Buffalo. The Bulls are struggling (3 losses in a row) since their PG was suspended. No word on if he will be back for the game on Saturday. For whatever it is worth, I think BG is better than they have played in February.