So when the boss said they needed me on a business trip on Tuesday out of town, I was like, well, I'm going to miss the Akron game, but, you know, we know how those usually turn out. And we were playing very poorly heading into the game.

Sigh. Wouldn't you know it?

Anyway, I might have been the only beneficiary of the late start. I was able to listen to the Walker/Cowan call for the second half of what was a very exciting game.

OK. That breaks the 17-game losing streak to Akron--something that should never happen to a team in our conference. Interestingly, Coach Huger told the Sentinel after the game they HE DIDN'T EVEN KNOW ABOUT THE STREAK and "doesn't pay attention to stuff like that."

OK, then. Surely, he knows that is the first time he's beaten Akron, right?

I'm proud of our guys. They have broken two long streaks--UT and Akron--and those go on the highlight reel for a season that has not been terribly distinguished. I wish we brought a "big game" effort more often since we are clearly capable of it. I'm sure that's on Coach's mind as well.

Be that as it may. We are glad for the win at any rate. It is significant and I'm especially glad that the late heroics were Denny and Alcegaire, both of whom might have played their last game against Akron.

Here's where we stand right now....BG is just one game out of one of those home berths. Let's just say BG won @Miami and beat Kent next Tuesday. We would finish 8-10. NIU just needs one win to beat BG, which I would see them getting in one of their 3 games, but not for sure. The other team is UT. We split with them, so I don't know where the tie-breaker goes. Anyway, they have two home games and then EMU, so I think they end up with 9 wins. In general, it looks tough. But who knows.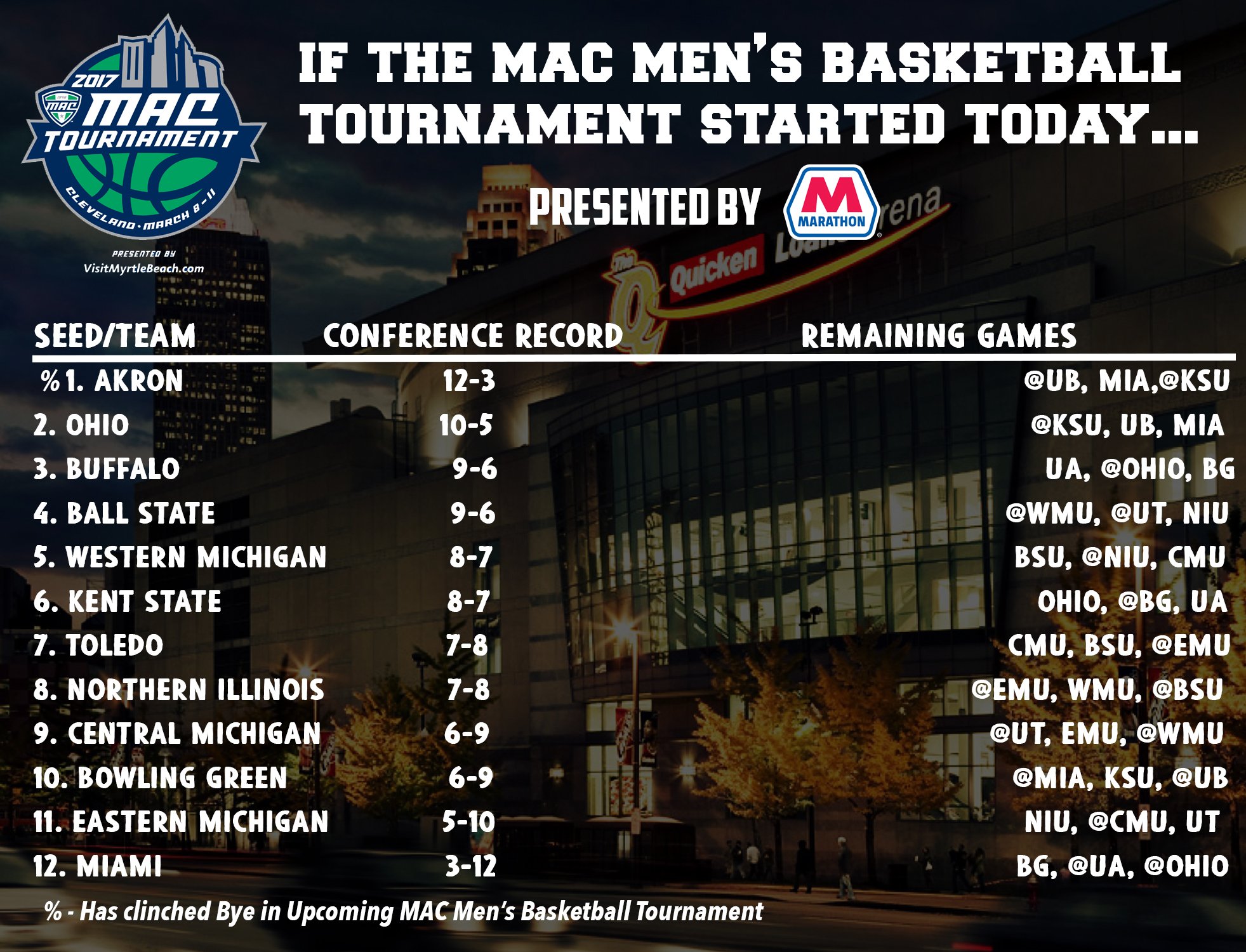 BG led the game most of the way. Akron jumped up 11-5 and then BG went on a 14-0 to go up 8 with 12 minutes left in the game. BG continued to build the lead up to 12. Akron continued to battle and got it to 5 by last in the half before BG scored to lead by 7 at the half.
BG came out hot in the 2nd half and had the lead up to 11. Akron went on a run and got it to 3 with 14 minutes left, 1 with 11 minutes left and they tied the game with 8 minutes. Akron finally took the lead back with 2:26 left in the game. Here, you just have to have the feeling that things are going the way they often do, with BG playing Akron tough for a long time, but in the crunch minutes the Zips push their foot down on the pedal.
Wes Alcegaire nailed a 3 to put BG back up 1. Denny got a steal on the next Akron possession and was fouled, but he missed the front end of the 1-1. Akron cleared the board and went to Johnson for a layup to put the Zips back up 1 with 1:32.
At that point, you felt like BG might have missed a pretty big opportunity. Frye missed a 3FG and things were looking rough. However, this time when the Zips fed the ball to Johnson, Denny got the steal. BG took the ball into Alcegaire who missed the layup. However, this time Wiggins took the offensive board, worked the ball and with :20 left Zack Denny nailed a jumper to put BG back up 1.
Akron called timeout and worked a play to get the ball to Johnson, who made a layup with :07 left. Akron back up 1 again. Without a timeout, BG ran the ball down the floor and Alcegaire drove to the basket, collided with Johnson and BG got the call. By all accounts, it could have gone either way, but this one went BG's way. Even so, this is far from a done deal. BG was still in the 1-1 and Alcegaire is only making 58% this year. This time, he was clutch, though. He made both ends and BG was up 1 and had a thrilling victory in hand.
As noted, this is one that could have gone bad and was pointing toward Akron grinding out a victory in the last minutes. But, this time, BG got a couple key stops and made the FTs they really needed with :07 left.
The key to the victory was that Akron didn't make any shots. You know, I've written for a while that BG is the easiest team in the MAC to shoot against, but in this case Akron found it hard to get shots to fall. BG held them to .93 points per possession, their best defensive game since Ball State. That 43% EFG is BG's best effort since the Alabama A&M game, and they are...literally...the worst team in the country.
For that matter, it was Akron's 3rd worst shooting game of the year and their worst in the MAC. BG didn't shoot great, but it was better than Akron shot. And then, BG did a much better job on turnovers. BG had only 8 turnovers for the game and Akron had 14. Those two factors together were enough to get BG the win. Nobody did any real offensive rebounding or FT shooting. There were only 31 fouls in the entire game.
BG was led by its guards. Zack Denny had 20 points on 7 of 17 shooting and 2 of 5 shooting. He also added 10 rebounds and 4 steals. Dylan Frye had 22 points on 9 of 12 shooting and 3 of 5 shooting. Wiggins and Alcegaire both had terrible shooting nights...except for Alcegaire getting the shots needed at the end and Wiggins getting the big offensive board before Denny's basket. He had 9 for the game along with 4 blocked shots.
So on the season goes. This was a big win. As Coach said after the game, Akron is the model. You want to be Akron. They are consistently good, year in and year out. And you can't have a team in your conference that you lose 17 straight to. Now, to Oxford, the most winnable game left on the schedule. Let's hope BG delivers it.