It was an amazing repeat of the Kent game.

BG was playing awful. Simply awful. With 2 minutes left in the first half, EMU led by 19. At least with Kent, BG made a late first half run, but in this case BG was down 17 at the half and 18 early in the second half.

Youch. It was pretty bad. According to kenpom, EMU had a 95% chance of winning at that point. BG then finally awakened, just as they did with Kent, playing lock down defense, getting stops and then finally making some shots against the EMU zone defense, which is an absolute bitch to score against. If you're going to commit to one thing, do it like they do it....relentlessly.

BG had it to 9 with 16 minutes left and 7 with 14 minutes left. Things stabilized for a while. The lead did not get inside 7 until there were 6 minutes left. BG got the lead to 3 with 5 minutes left and tied the game for the first time with 4:36 left. Even then, EMU maintained the lead, and had a 3-point lead with 1:12 left.

EMU got a stop on the next possession, which you think would be it, but BG fouled and EMU missed the front end of the 1-1. BG rebounded and came down. Even under pressure, you just don't get a quick, quality shot against these guys. BG wasn't in the bonus, so EMU had a foul to give and did with :10 left. BG called time out and set up the key play.

Based on coach after the game, the first option was Turner and the second was Frye. Fox was inbounding and correctly knew that whoever got the ball would be collapsed on. Also, EMU was in a perfect position to foul to prevent the 3, so it had to be fast. Turner was covered, Fox got the ball to Frye who fed it back to the often open inbounder, and Fox was 3 feet behind the arc and drilled the game tying 3.



The overtime was something I don't think I have ever seen before. BG did not attempt a FG for the entire 5 minutes. ATTEMPT. I cannot believe it. You just don't see it. What BG did do was make FTs and get stops. BG shot 13 FTs in the extra time and made 10 of them. Meanwhile, EMU shot 1 of 12 in extra time, and that allowed BG to win the game 70-63, their second OT win over EMU this year.

The stops and the FTs are related. When BG gets stops they get into transition and put pressure on an EMU team that prefers half court sets in a big way.

BG never led in regulation. The game was only tied in regulation twice. BG first led 41 minutes into the game. Interestingly, when BG had the ball down 3 with :06 left, EMU had a 95.3% chance of winning, based on similar situations. It is the 153rd biggest comeback in D1 ball this year, all based on kenpom.

BG held EMU to .9 points per possession. That's the 4th game in a row where the Falcons have held their opponent under .9 points per possession and BG is 3-1 in that period.

Looking at this game, you can see where the advantages came. First, shooting was even for the game, but that's not the whole story. In the first half, EMU shot 56% and BG shot 25%. In the second half, BG shot 48% and EMU shot 40%. In the OT, EMU shot 8%. After the first half, they were 1-12 from 3FG.

EMU forces a lot of turnovers and that bit BG a little bit, especially as the Falcons played without Rodrick Caldwell. However, BG took big advantage of the offensive boards, which are tough to cover in a zone. And, most of all, BG had a huge advantage at the FT line. BG was 22-29 (76%) and EMU was only 9-11. So BG was +13, 10 of them coming in the OT.


Demajeo Wiggins had a double-double, 17 and 15. That's 17 on 6 of 8 shooting. He did have 4 turnovers. Whenever BG got the ball into the paint, they were SWARMED by defenders. Dylan Frye had 12 on 4 of 5 shooting from 3FG, his best shooting in a while. Matt Fox had 12 off the bench, also on 4 of 5 3FG shooting. Derek Koch had 10 and 7 rebounds on 3 of 6 shooting. And Justin Turner had a very interesting 10 on 1 of 14 shooting, but 8 of 10 at the line. He was just snakebit, a bunch of those 13 misses were right up close.
BG has shown they can play very effectively for parts of games, even most of games. They've had big comebacks and blown some big leads. The next step is putting it together for longer stretches--these big comebacks are not sustainable. Having said that, if you had told me we'd be 6-6 two-thirds of the way into the MAC season, I'd have taken it all day.
So, next up are WMU at the Stroh on Tuesday and then Buffalo on FRIDAY on the road. Here's how things look right now. BG is 2 games clear of where they need to be to play at home and one game short of being in the top 4. They also now own the tie breaker over EMU. However, BG has two games with UB left and no one else does. Puts extra pressure on the WMU and Akron games, as well as @OU.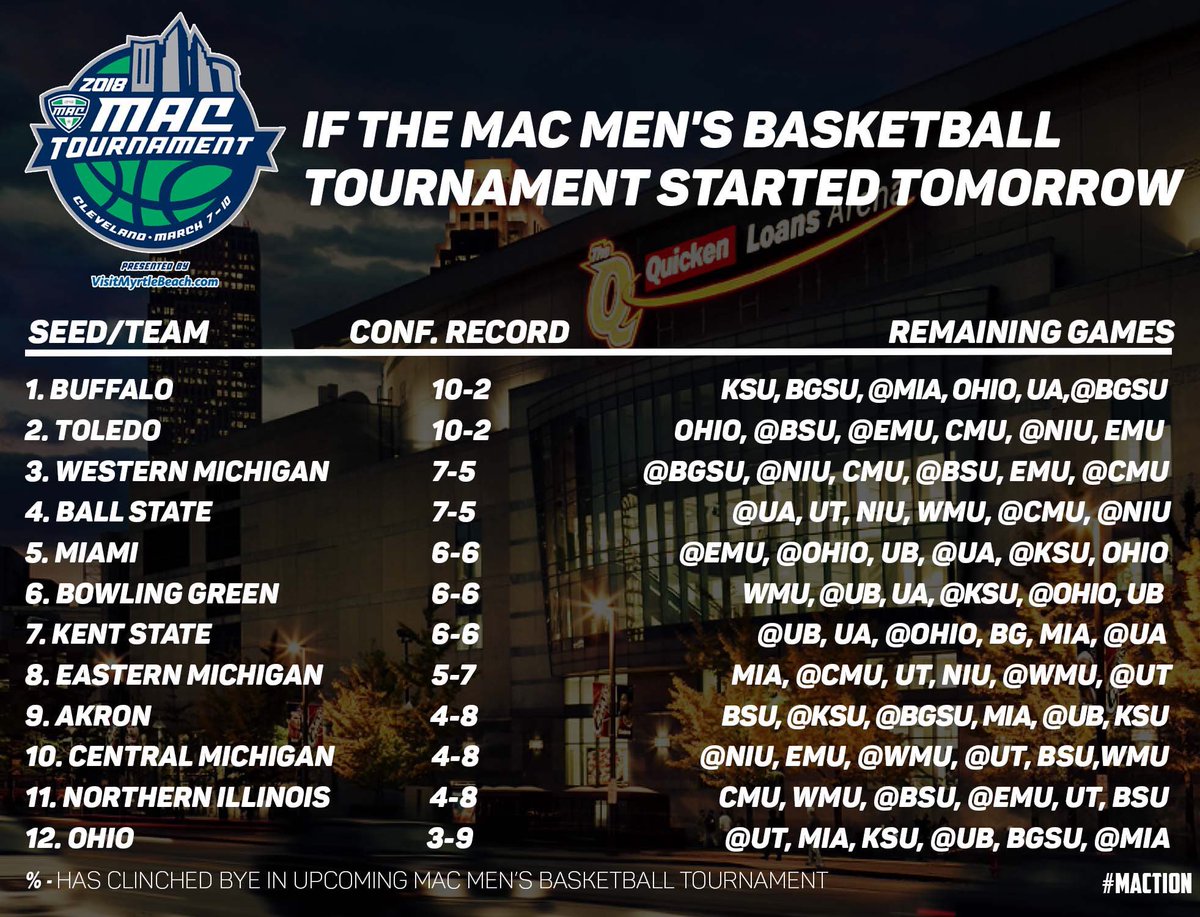 One last thing. BG is 15-10 with 6 regular season games left. That means at the most they can lose is 7 games. With two wins, they clinch a winning season. That might sound like nothing, but in the 16 years since WVU, it would be only the 4th winning season for the Falcons.